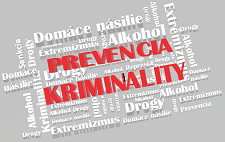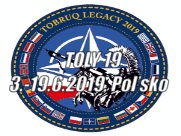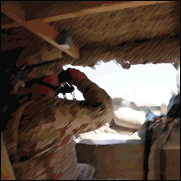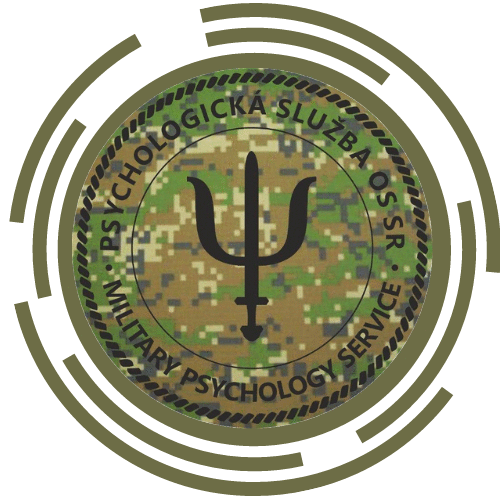 Calendar of events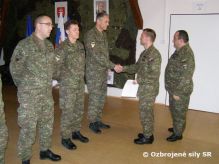 12.03.2014
Commander of the Multipurpose Battalion LTC Maros Murarik evaluated the previous training year. He stressed that in spite of many problems the planned and unplanned tasks were fulfilled. He thanked the professional soldiers for their hard work and responsible approach, afterwards he handed out the best ones a letter of thanks. Commander of the Brigade of the Combat Service COL Jozef Sevcik expressed the satisfaction with the battalion and wished a lot of working success and hope fo...

07.03.2014
On the occasion of the International Women's Day commander of the Multipurpose Battalion LTC Maros Murarik congratulated to the professional women soldiers and civil...

10.02.2014
Sergeant major Michal Czodor bid farewell to the Multipurpose battalion on 31 January 2014. Sergeant major Czodor has served as the command senior nonco...

07.02.2014
Commander of the Joint Logistic Support Group COL Jan Zarnovicky appointed LTC Maros Murarik new commander of the Multipurpose Battalion. LTC Murarik took up his dutie...

07.02.2014
On Monday, 20 January 2014, professional soldiers of the Multipurpose and Transport battalion came together to remember two colleagues who lost their lives whilst on d...
12.04.2013
Chief of the general staff Lieutenant General (LTG) Peter Vojtek visited the garrison Hlohovec on the 9th April 2013. Garrison commander Lieutenant Colonel (LTC) Adria...

22.02.2013
Headquarters, logistics and selected members of the units attended Shooting Competition of the Multipurpose Battalion Commander on the 29th January 2013. Professional ...

30.01.2013
Memorial ceremony for the victims of the plane crash in the village Hejce was held at the cemetery in Hlohovec on the 21st January 2013. Surviving families, mayor of H...

07.01.2013
Multipurpose Battalion celebrated the 51st anniversary of the unit "4444" on the 1st October 2012. Professional soldiers performed a parade followed by sol...